Discover more from Growthfyi
A Growth Content Repository
Ghost CMS, Journey To Million
The journey of Ghost has been really nice, millions in revenue with zero VC money. Learn how Ghost's founders did this magic.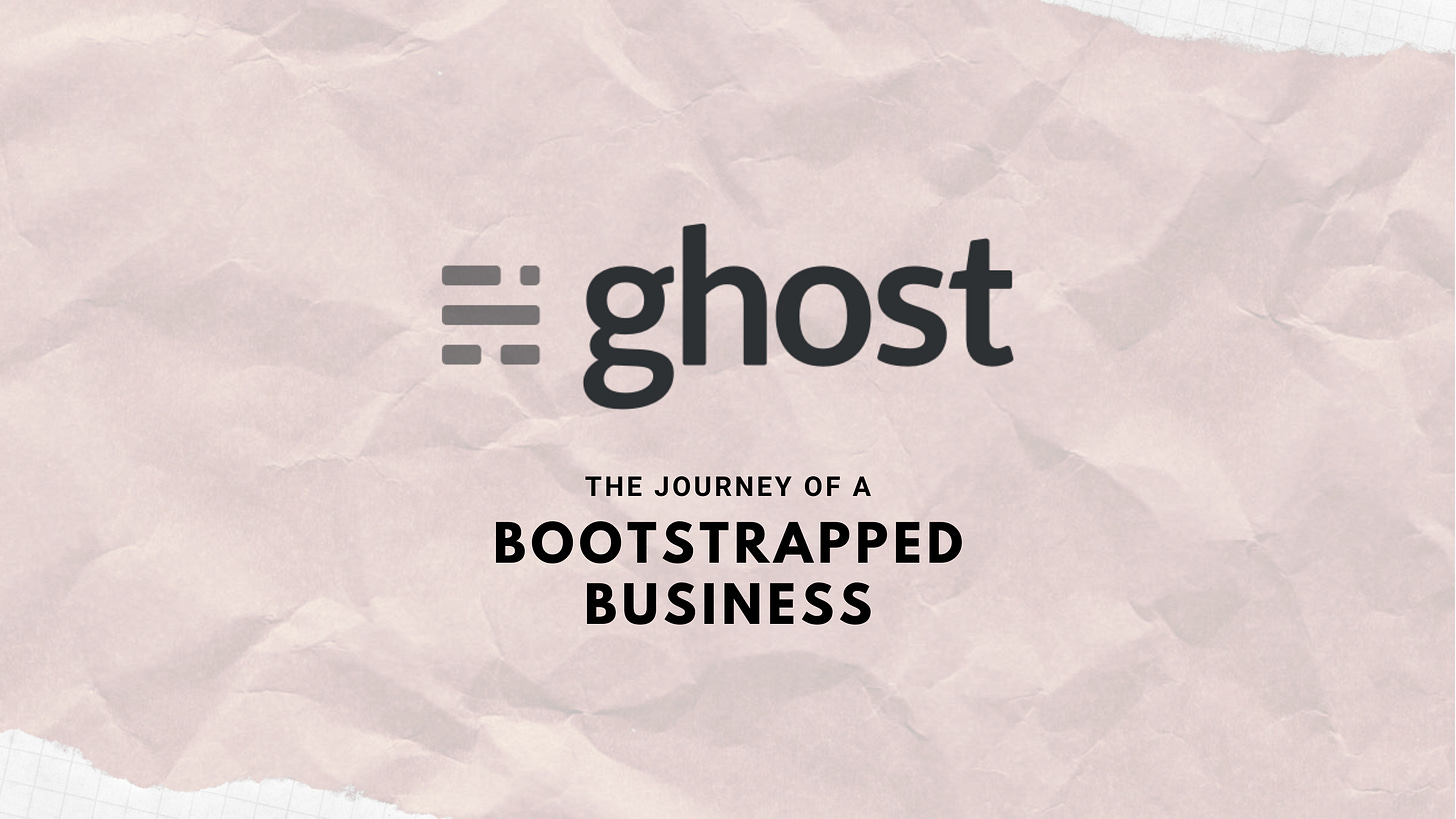 Ghost is an open-source content publishing and management software. It began as a Kickstarter campaign in 2013 and grew into a product with 216,891 USD as monthly recurring revenue.
Ghost is like WordPress but better.
The main idea behind Ghost was to get a unified content publishing platform which is capable of self-existence. The main issues back then which most writers faced was WordPress was great but it needed quite other tools and plugins to make it a complete publishing platform.
John & Hannah (Co-founders of Ghost) saw the gap in the market and quickly jumped into it.
---
The Product
As I said above Ghost is a unified content publishing, distribution and management platform. When launched in 2013 it was supposed to compete against WordPress. Unlike WP, Ghost didn't need additional plugins for SEO, newsletter, page builder and other basic plugins.
As of 2020 Ghost has developed into much more. Now you can have membership (restrict part of the website for members only), manage newsletters. You can call it a mixture of Medium and Substack but controlled by you.
Though Ghost is open-source software they have done a few things which made it much viable for users to choose their managed service.
Let's see how Ghost grew this big.
---
1. Pre-Funding
Very few startups/businesses do this but if done then it ensures the market fit of product and helps to get initial customers. As mentioned above, Ghost started as a Kickstarter campaign which helped then raise 350K USD and get some initial users. By doing this they ensured their business had sufficient resource to fund its development till the production stage without much reliance on actual initial revenue.
Also, most initial supporters became their first consumers who helped them get free marketing using word of mouth. Plus these customers gave much valuable product feedback.
---
2. Going Open-Source
Just like WordPress, Ghost too decided to choose the open-source path. Their idea was to use open-source to popularize their platform and provide a managed solution. Though going open-source with a great product was good growth in terms of market recognition but had an ability to backfire on their managed solution.
Being open-source software, Ghost has been able to attract more than 34,000 stars on GitHub from developers, users and lovers. Also, DigitalOcean and Cloudflare are their enterprise sponsors, by current data it should be around 5,000USD per month from these two sponsors only (unless grandfathered).
Let us see how Ghost ensured that no other players started providing hosted Ghost.
---
3. Productized Software
Now the founders of Ghost knew that in order to make a living out of it they need to make the managed solution compelling while trying to keep competition low. WordPress did a great blunder (in terms of business) by making a software hostable on shared hosting. This became very lucrative for a shared hosting provider and you can see where we are.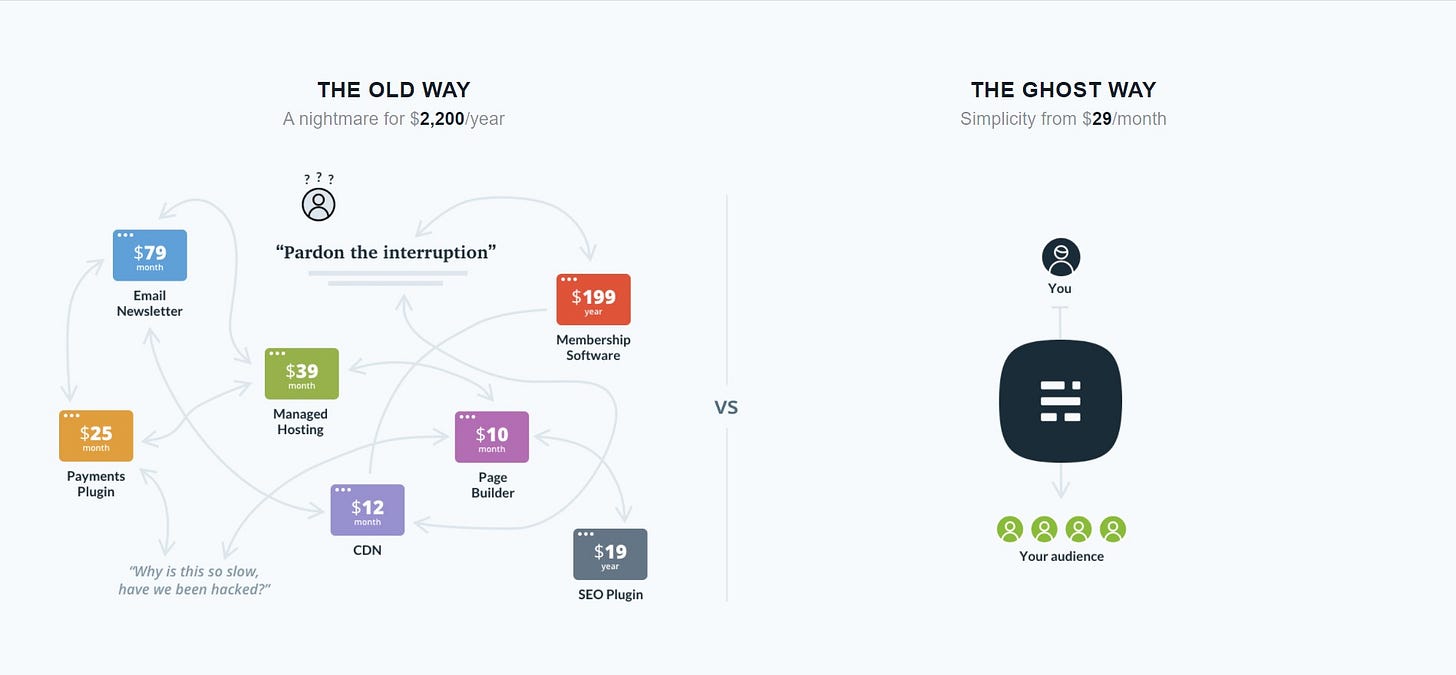 Ghost came up with a great solution, they made software which needed a VPS for the software to function properly. Now hosting providers could provide Ghost on VPS but managed solution by them were expensive (more than 30USD). Also as Ghost themselves were hosting only Ghost sites so they could keep the prices low (starting from 29USD).
This is how Ghost managed to keep competitors out of the managed solution business. It's still worth on how the scenario changes as Ghost becomes more popular.
---
Competition
The current version (v3) of Ghost offers much more solution than what they did during launch. Now Ghost is not just a CMS but also a paid content/newsletter solution provider. For this reason, they have much more brands to compete.
WordPress

Substack

Medium

Patreon

Contentful
---
Funding
Ghost is a bootstrapped business which means that the founders haven't used any VC money to fund the growth of their startups. So far Ghost has only raised 350K USD from their Kickstarter campaign. Other than that they have used the 7M USD revenue which they have generated from their customers.
Here's what the Ghost FAQ section says about funding.
We're very proud that Ghost has raised over $7,000,0000 directly from the world's most prominent investors in the space we're in: Our customers. Ghost started with a $350,000 Kickstarter campaign in 2013 and has been profitable every single year since the beginning. We've made over $7M from customers in return for 0% equity and, as a non-profit organization, we plan to stay fully independent: Forever! Our business model is to make a product people love and then provide world-class infrastructure and management for it.
---
Result
Ghost has been a very successful bootstrapped business also they are very kind and open to provide all their metrics for free to everyone on the web. Here's the 2020 data.
MRR- $217,213
ARR- $2,606,550
APRU- $38
Active Customers- 5,664
By seeing the stats above you should have got an idea of how successful their business is, it also tells us that not every time we need lots of funding to create a big business out of it.
Keep Hustling,
Ankit : )
Have a spare minute?