Discover more from Growthfyi
A Growth Content Repository
Your Startup Might Be At Platform Risk
Platform risk is huge, your loving platform might turn into your competitor or just decide to ruin your business to grow their own. Know the best way to do it.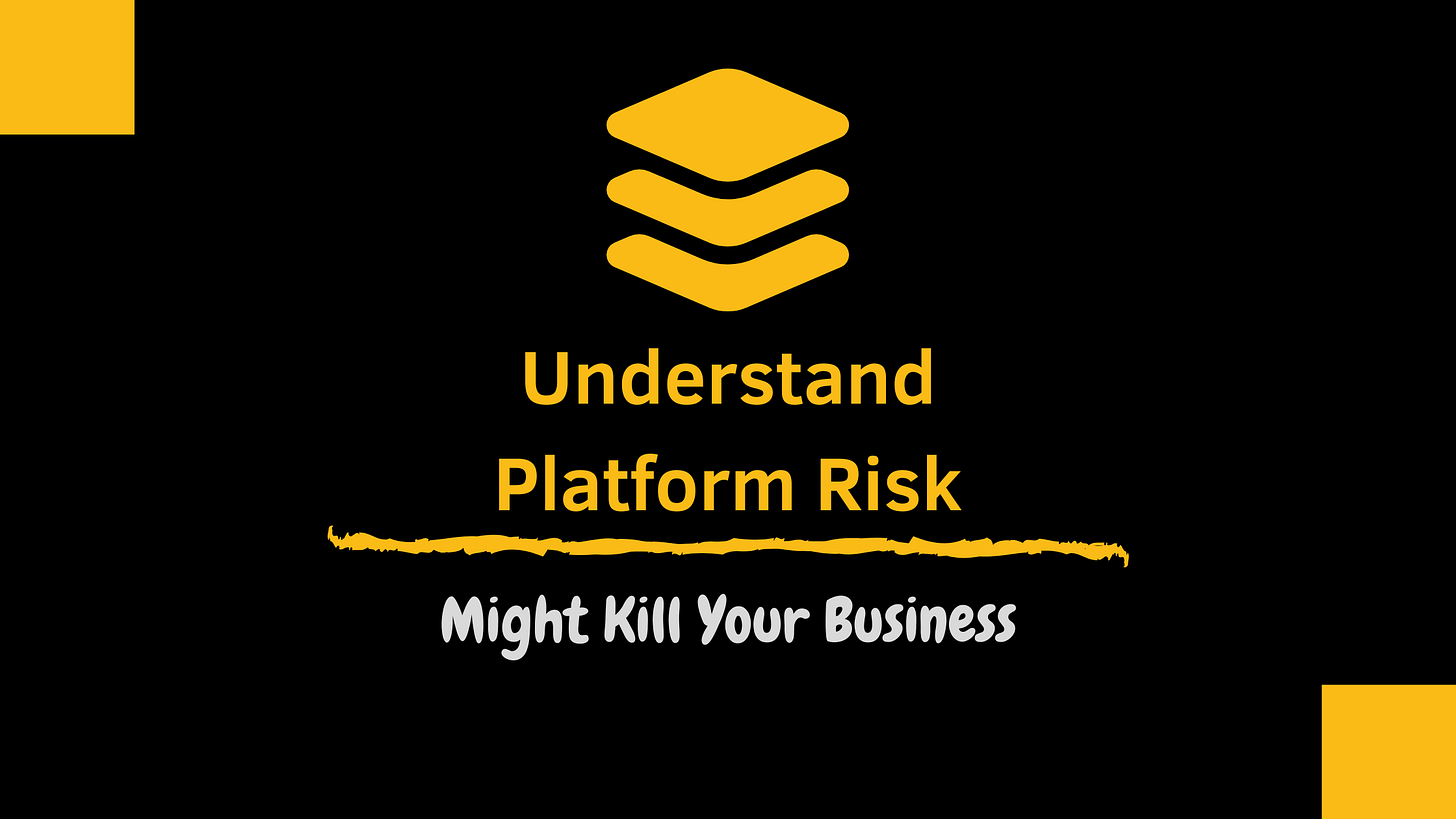 Ever heard of platform risk? Well if you haven't then you really should. It is a type of risk which makes to very dependent on other platform and any unexpected action from them might lead to a disaster into your business, sometimes resulting to complete end for your dependent business.
Here are a few great examples on platform dependents:
Now you might say that there's nothing wrong as most of the business are doing this, I understand it but you need to know that there are lots of horror stories too. Here's a quick one, in 2020 Apple announced their Fitness app and completely punched in the face of Gramin. Similarly, Stripe checkout was a disaster for many businesses providing similar services.
Want to know how the platform might hurt you?
They might change access to their data.

They might come up with similar service.

They might add/increase data access or license fees.

They might shut down.
Don't trust me? Google yourself.
Even after these serious risks, I don't discourage these kinds of businesses until they do it in a proper way. Like look at Buffer, it is dependent on multiple social media networks and not just on one. Similarly, Baremetrics is a platform-dependent business but it depends on multiple payment providers for data collection. Distributing your product/service with multiple platform help to dilute the platform risk.
Diluted Platform Risk is OK.

Concentrated Platform Risk is Alarming.
Whenever you build a business, you should build it as an independent entity which can't be hurt by other businesses. It should be based on a unique value proposition which you true users could connect to. This was a short piece of content which I thought would be extremely useful for my readers so wrote it.
Keep Hustling,
Ankit : )